Price :
Free
File size :
3 Mb
Download :
www.fontmate.com
Font Mate is a unique font viewer, because it is not just a font viewer. There are more things you can do with this software.
Version for Mac OS X, Windows and Linux is available.
How to use
Font Mate
Pick one font that you would like to view at the font menu:
You can see all the characters of the fonts on your computer as Font Mate shows them in grid box panels. Click on a box of the font that you want to see.
After you chose a font, at the left-bottom corner of the window, you can see larger thumbnail preview. Below the preview box, ASCII and Hex values for related font are included. You can copy any character to the clipboard to paste into other applications. Print a sample sheet for any font is easy Go to the menu File > Print Sample or Ctrl + P.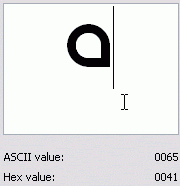 Check this window screenshot of Font Mate to get clear sight of this freeware.